THE MOST ADVANCED MOTORCYCLE BRAKE DISCS IN THE WORLD
BEST BRAKING • QUICKER TURNING • FASTER ACCELERATION • LONGER LIFE



SICOM DMC Dual Matrix Composite Ceramic Brake Discs

These lightweight composite ceramic brake discs - manufactured from Fibre-Reinforced Densified Double Matrix Composite Material - are by far the most advanced motorcycle brake rotors in existence.

High coefficient of friction for instant bite - even when wet and cold (unlike Carbon discs which only operate at race temperatures)
Lightest weight... as little as a third of the weight of a comparable high-performance metal disc!
Front discs typically under 700g per disc with carrier
Rear discs from 220g per disc
Generate the lowest gyroscopic and rotational inertia
Enables higher acceleration and easier, quicker turning/cornering
Extreme rotor surface hardness for the longest life
6 mm rotor thickness
Supplied complete with high-performance sintered brake pads
Pads and discs are compatible with OE or aftermaket calipers
No oxidation/corrosion at all from either salt water or from extremely high temperatures
European TÜV and USA DOT approved for legal road use
Available for all bikes as OE fit or via HPS's bespoke disc build service (see below)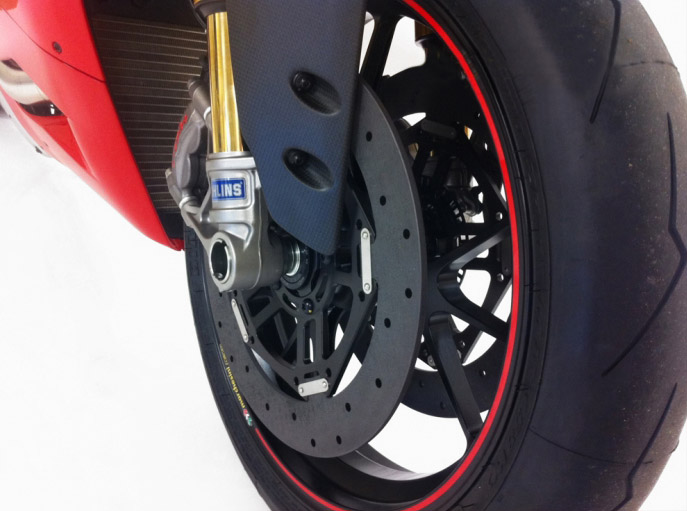 "Best brakes I ever had...Almost no brake dust, brakes just fine in wet and the same or better in dry conditions, major weight loss."

ShiftTechCarbon, ducatiforum.com
Ducati 1199 & Diavel

Custom Brake Disc Build Service from HPS...
Any Disc, Any Size, Any Offset …Any Bike!

At HPS we not only supply high quality SICOM standard sized direct replacement front or rear discs for your bike, but we also offer a bespoke disc manufacturing service for one-offs (or batches of discs) to enable you to put the finishing touches to your bike - whether simply changing to non-standard wheels, or tackling an entire special project bike. Either way, HPS will ensure your SICOM discs will simply bolt straight on.

SICOM T-Drive and Floating braking rotors (as OEM suppliers to customers such as Brembo have been developed and used for many years at the highest levels of racing) are manufactured from a Fibre-Reinforced Densified Dual Matrix Composite Material - are by far the lightest and most advanced motorcycle brake rotors in existence.

If you need to fit non-standard wheels, forks or swingarm - or match new discs to replacement calipers - we can supply the discs to bring it all together.

Please call us on (UK) +44 1 773 831122 to discuss your needs, or download our Bespoke Disc Specification Quotation/Ordering form for either T-Drive or Floating discs below...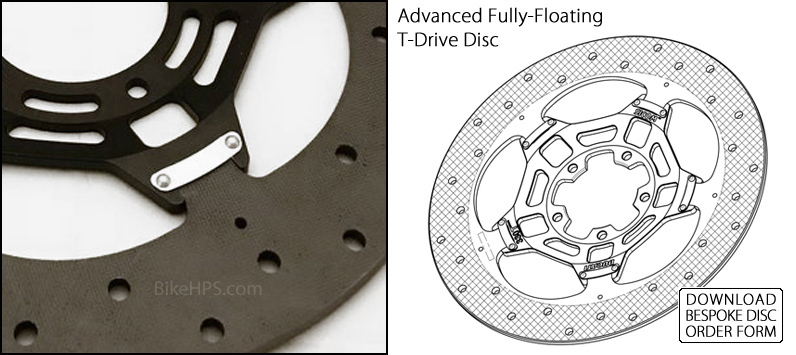 Rear discs also available on request, please contact us for more information.
"Amazing weight difference combined with the BST's [BST Carbon Fibre Wheels] 6.5mm thick with matching thick pads, best brakes I've ever had, progressive but they work immediately, I barely need to touch them to scrub off speed!, never pulled them all the way... combined with the BST's it's over 2kgs lighter at the front so its steers very light now. They are a ceramic carbon mix so work perfectly in the wet and cold too."

Messiah, Aprilia Forum Expert
Aprilia V4R
"Absolutely brilliant! They're really, really good, I'd really recommend them.

On every brake stop you can feel them getting better and better… I'm down to one or two fingers now instead of four."

D.E. - Former 'Bell Vue Aces' Speedway Team Member, Track Racer & Metzeler Tyre Development Rider
Ducati Desmosedici