"Delighted with mine, also - no buffeting for me or my passenger - I'm about 6 ft - well worth the money."

Mike (gsclubuk.org)
BMW R1100GS
The award-winning, ergonomic and complete two-piece MRA Vario Screen easily adjusts in height by hand - with no tools required - enabling you to alter the airflow directed towards you to reduce turbulence and buffeting, improve your comfort and vastly reduce rider fatigue on - even the longest journeys.

Length/height with spoiler raised 500mm
Stylish Grey/Smoked tint or Clear finish
Upper section easily adjusts through 50mm in height without the use of tools
Special two-piece "air-bleed" design reduces front/rear pressure differential for reduced buffeting
Black gradient fade-out on underside conceals and protects rear of instruments
Produced from a unique and resilient, shatterproof and virtually unbreakable material
Manufactured in Germany to TÜV standards with an unsurpassed fit and finish
Lifetime guarantee to the original purchaser
Image shown from R 1150 version.



| | |
| --- | --- |
| Please select a tint for your screen: | Add Xerapol Scratch Remover to keep your screen looking like new, £9.25 |
Price:£99.17 (£119.00 Inc. UK VAT at 20%)
(Optional delivery charges calculated before checkout, depending on destination & service)


Read the
MRA BMW R1100GS (All Years) Vario Motorcycle Screen Maxi
Reviews...
(Overall Rating:
More Great Products for Your Bike...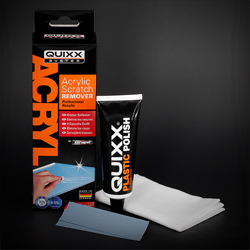 [+] CLICK HERE FOR ANOTHER IMAGE...


Quixx Xerapol Screen Polish/Scratch Repair Kit
Ref: 56396

Let your screen shine again, as bright as new!

Xerapol, the global No. 1 acrylic scratch remover, offers an astonishingly simple solution to the problem of scratched or scuffed plastic windshields, headlights and helmet visors, and restores surfaces with professional results and is even TÜV approved.

Amazing results on acrylic or Plexiglas.

Kit includes...
- Xerapol Polish
- Special Fine Grade Abrasive Paper
- Soft Polishing Cloth


"Thanks for the excellent, fast service... product really works"

JM, South Yorkshire
Yamaha 1990 Virago
Price:£7.71 (£9.25 Inc. UK VAT at 20%)
(Optional delivery charges calculated before checkout, depending on destination & service)